Finally, one of Nigeria's most critically-acclaimed and insanely talented musicians, Brymo (whose real name is Olawale Ashimi) has come through with his highly anticipated sixth studio album titled "OṢÓ", and it's nothing short of the major masterpiece we expected.
According to the brilliant singer-songwriter, "OṢÓ" – which comes roughly two years after his "Klitoris" album was released in May, 2016 – is primarily dedicated to keeping his art sacred.
As we revealed earlier, "OṢÓ" is the Yoruba word for wizard, and the album's art clearly depicts Brymo as the wizard of his own art.
Upon the album's release yesterday, Brymo advocated patience as a mandatory virtue for success, and further declared that the best drug for sorrow is a good attitude.
"OṢÓ" is easily the quintessential masterpiece. From the reflective "God is In Your Mind" to the super soulful "Bá'núsọ", the sizzling album asserts Brymo as the maestro that we all know him to be.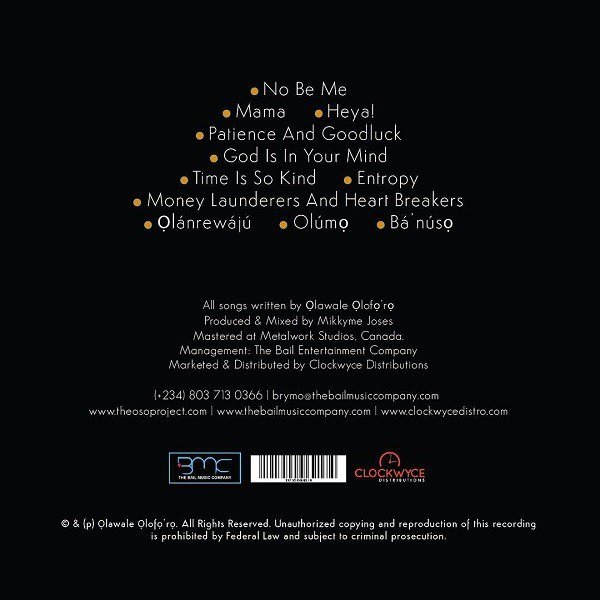 The introspective body of work which is solidly built on the perfect blend of masterful songwriting, philosophy and infectious rhythm could well be described as Brymo's most powerful work till date.
On the album, the sensational music maker hails Nobel laureate Wole Ṣoyinka for the popular Ake Festival on the 10th track, "Olumo". Brymo also praises the former president of Nigeria, Olusegun Obasanjo as Ebora Owu, while also acknowledging the Alake of Egbaland.
In an earlier interview, Brymo – who explained that he gets better with every new song he writes – had this to say:
"Every single time I grab a pen to write a song, I'm trying to write a song that's better than the song I wrote before. So that ideology sort of creates a behavioural pattern for me that I must constantly adhere to."
The album's launch is expected to be followed by a major concert in April, as well as a book launch in May.
Check out the impressive tracklist for the fiery album below, and get listening to "OṢÓ" right away:
1. No Be Me
2. Mama [Explicit]
3. Heya!
4. Patience and Goodluck
5. God is in Your Mind
6. Time is So Kind
7. Entropy
8. Money Launderers and Heart Breakers
9. Olanrewaju
10. Olumo
11. Ba'nuso
[wpdm_package id=18092 template="link-template-calltoaction3.php"]