Music
Riddim Boss x Shatta Wale x Patapaa x Feli Nuna x Qwabena King x Bobo Pee – Body Fi Body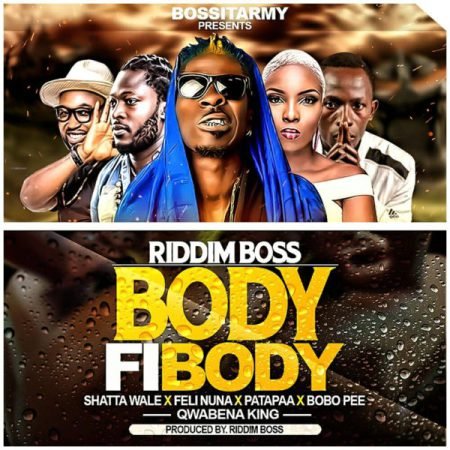 Uber-talented Ghanaian record producer Riddim Boss is still raising the bar as he comes through for his teeming fans and lovers of his craft with a scorching new track dubbed "Body Fi Body" on which he features Shatta Wale, Feli Nuna, Patapaa, Bobo Pee and Qwabena King.
The sensational Dancehall beatmaker Riddim Boss (who previously went by the name Infectious Beatz) is without a doubt one of Ghana's finest.
Over the span of his undeniably successful music career, the music producer has been responsible for a significant number of hits that have thrilled lovers of Ghanaian Dancehall music.
On his latest release, Riddim Boss enlists the musical genius of the self acclaimed King of African Dancehall Shatta Wale, Bobo Pee, Beehyve Entertainment songstress Feli Nuna, Qwabena King and "One Corner" hit-maker Patapaa to whip up a collaboration of epic proportions.
Riddim Boss brings his A game to the table on "Body Fi Body", an up-tempo scorcher that's obviously suited for the dance floor, while each of the featured artistes take their turns to murder the beat.
Get your groove on to "Body Fi Body" while the sizzling joint is still smoking by streaming or downloading it right away. As usual, feel free to share your thoughts with us in the comments section below.