Music
Black Reverendz – Announcement Ft. Danfo Drivers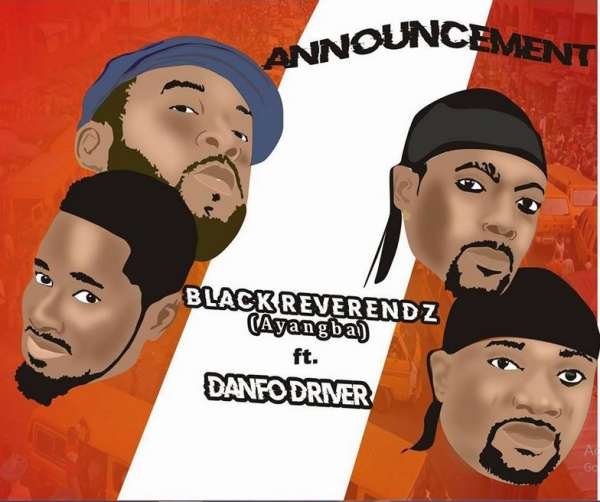 2GG's of SwaGG Africa known as Black Reverendz aka Ayangba, the duo of Shaibu Adams (Shobb 2) and Wasiu Lawal (Wesley) are back again this time, and they aren't chilling because they've got an "Announcement" to make alongside "Jogodo" hitmakers, Danfo Drivers.
"Announcement" is influenced by Ajegunle Traditional Street Rhythm "Oghene"
The "Ayangba Dangerous " hitmakers went into oblivion after their second album, and made a come back in 2016 with the remix of their popular hit song, featuring former YBNL artiste, Lil Kesh.
Last year, we saw them team up with legendary Nigerian disc jockey, DJ Jimmy Jatt to commission "Bad Girls" which had a spin of the Ayangba Girls in it.
And this time, they are making it hotter and better by teaming up with Ajegunle street kings, Danfo Drivers (consisting of Mad Mellon and Mountain Black).
If you recall, several weeks ago saw the Danfo Drivers duo in an interview during the just concluded Headies 2018, expressing their disappointment and anger with "Pana" crooner – Tekno for using their song "Jogodo" without acknowledging them or seeking their permission.
Later we saw the duo with Tekno Miles in a photo smiling, which was an indication that the issue was resolved amicably.
"Announcement" is Black Reverendz's latest offering to Nigerians. It's a ghetto and street anthem rich with crazy beats, crazy and energetic dance moves, and a masterpiece from two street king groups.
See how Black Reverendz make their "Announcement" to Nigerian fans and the music industry by clicking here to stream or download. Also, do not forget to share your thoughts and opinions in the comments section below.