News
Wizkid Bows To Pressure, Set To Launch "Pop Up" Shop In Nigeria
Star Nigerian singer, Wizkid has finally bowed to pressure and is set to bring his 'Pop Up' shop to Nigeria with December set as the date when that will happen.
Wizkid upset a lot of fans with his decision to open up the shop in the US rather than in Nigeria. One of such angered fans called him out in a video, asking why. Yet another fans commented on his post asking when the 'Pop Up' shop would come to Nigeria and Wizkid responded with the December date.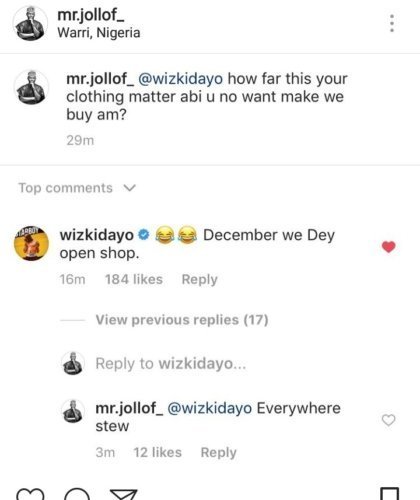 The announcement will thrill fans who had been pissed that he opened shop elsewhere but home and ahead of the December launch, many fans will start saving up in anticipation.
Wizkid was just a few days ago described as the hottest pop star in Africa by Vogue magazine before announcing the date of his "Made in Lagos" worldwide tour yesterday. This latest announcement is guaranteed to keep his stranglehold of headlines even firmer.
Starboy Entertainment boss, Ayodeji Ibrahim Balogun aka Wizkid is a top Nigerian artiste, entertainer and performer. He started recording music at age 11 and managed to release a collaborative album with the Glorious Five, a group he and a couple of his church friends formed.
In 2009, he signed a record deal with Banky W's record label, Empire Mates Entertainment (E.M.E). He rose to prominence in 2010 with the release of the song "Holla at Your Boy" from his debut studio album, "Superstar" in 2011. Wizkid parted ways with EME and launched his label Starboy Entertainment in 2017.
Over the years, Wizkid has had notable singles and collaborations like "Ma lo" feat. Tiwa Savage, "One dance" ft Drake, "Soco" ft Terri, Ceaza & Spotless, "Kana" ft Olamide, "Love My Baby", "Pakurumo",  "Jaiye Jaiye", "Bombay", "Show You the Money" and lots more.
The heavyweight performer is also a recipient of numerous awards including two BET Awards and 3 Billboards Music Awards.
While we await the launch of the 'Pop Up' shop in December, we promise to keep you posted about any development.