Albums
Wizkid – Sounds from the Other Side
If we were to rank African musicians by positions, then Wizkid would definitely take the first place in the list. Having done so many collaborations with the lynch pins of the world's music industry, Wiz is definitely the musical alpha in the black continent. Guess what, even before his 2017 album is officially out, the singer has already done a handful of performances of the songs in this album, combined with his previous songs.
Wizkid begun rocking 2017 after doing a collabo with North America's idol, Drake, for the song "One Dance". He has also done some music this year alongside other popular musicians from all over the continent. Actually, there has always been this close tie between WizKid and Davido, but what sets Wiz apart from his real African competitor, is simply how he's able to switch genres, without losing grip of his talent.
Having listened to all songs in his "Sounds from the other side" album, you will realize that Wizkid managed to mix all sorts of beats in this album. Some songs have a hip touch, others some bit of RnB and for the likes of "Sweet love" you get a touch of the Caribbean air.
Wiz even managed to do a reggae-ton beat in this album for the song "Daddy Yo". The 12 track album features some wonderful collaborations from Drake, Major Lazer, Bucie, Sarz, Picard Brothers, Trey Songz and Chris Brown. Among the top of the chart songs in the album are, African Bad Gyal featuring Chris Brown, Come Closer with Drake and Dirty Wine featuring Ty Dolla $ign.
Tracklist:
1. Sweet Love
2.Come Closer (feat. Drake)
3. Naughty Ride (feat. Major Lazer)
4. African Bad Gyal (feat. Chris Brown)
5. Daddy Yo
6. One For Me (feat. Ty Dolla $ign)
7. Picture Perfect
8. Nobody
9. Sexy
10. All For Love (feat. Bucie)
11. Dirty Wine (feat. Ty Dolla $ign)
12. Gbese (feat. Trey Songz)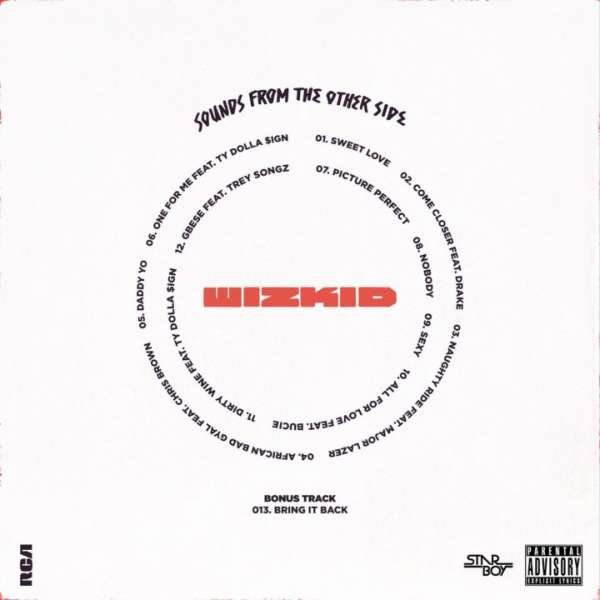 Trey Songz's work Gbese which Wizkid starred in, is also coming up really quickly, although older songs in the Album like Sweet Love, Daddy Yo single and Come Closer have already dominated the playlist.
Stream below: