News
MasterKraft Slaps Oyemykke Over Banky W Comment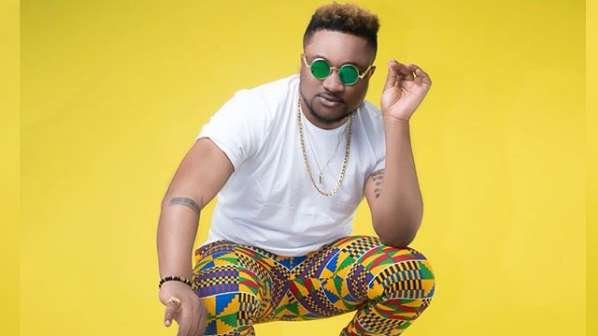 Nigeria's top music producer and sound engineer MasterKraft has fired a shot at motivational speaker cum filmmaker Oyemykke (Abisoye Olukoya Michael) for mocking Banky w in a recent Instagram post.
Oyemykke posted a video to hi Instagram page. In the video, he alleged that Banky W's EME (Empire Mates Entertainment) crashed after Starboy Wizkid left. He said: "Who remembers when Banky W said i'm the baddest boss and when Wizkid left EME, EME crumbled (Laughs) I'm a big fan of Banky W but I just find that song really funny."
Well, many didn't find that funny, as Oyemykke would find out later. "Remember" mastermind MasterKraft, who Ajaeze recently co-opted alongside Flavour in "Like This," took to Instagram as well, to lambaste Oyemykke for being insensitive and unthinking. He wrote:
 "This man Gave me a chance when I didn't even want or know the value … this man stood for me in front of brands like @airtelnigeria @samsung_nigeria @mtvshuga @cirocnigeria to mention a few..@bankywellington is a selfless Leader.
"I worked as the music director for EME from the start and I kno the full story .. won't wanna say much but I'm Grateful to this man till my last breath !!!!!! The world needs more of these kinda people !!!!
@oyemykke , I don't blame u… I blame Instagram and ur beards… try buy sense for London bros..face ur aggressive comedy wey I no even know wether eee funny … and at least try Dey drink more water and mind ur-instagram bizness or by the side Laptop usage.. !!!"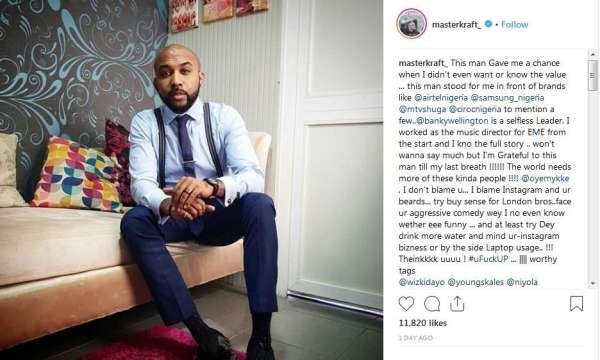 Other celebrities have also come to Bany W's defence, including Tunde Ednut, who literally implored his followers to unfollow and block Oyemykke.
He wrote: "This guy with his aggressive unfunny comedy is one guy that needs to be unfollowed/ Blocked. Comment below when you do that… DO IT ALL FOR BANKY W!!! #TeamTundeEdnut Unfollow or BLOCK @Oyemykke."
Some followers apparently did, to Oyemykke's chagrin, and he fired back on Instagram, verbatim: "Someone Just Sent Me This!!! TUNDE EDNUT POSTED ABOUT ME ON HIS INSTAGRAM THAT PEOPLE SHOULD BLOCK AND UNFOLLOW ME ?? ABOUT ME ?? YOU DON FUCK UP ! It's COMING."
The battle is just unfolding. Watch this space for more updates.