Mixtapes
DJ Real – C'Ronaldo vs. Lionel Messi Party Mix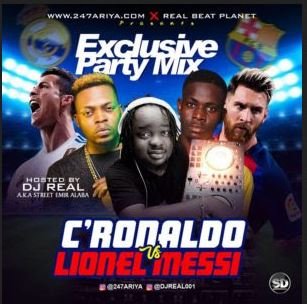 What better ways to enjoy music, celebrate two of world's greatest footballers and footballers all over the world, and infuse the football culture than to make both worlds meet?
Well, someone has taken the gauntlet and accepted the challenge.
Guess who? It's no other than the Emir himself "DJ Real" who has put together the best collections of hit songs from all your favourite Nigerian hitmakers. He collaborates with the online media heavyweight – 247Ariya Media to commission a party mix titled "C'Ronaldo Vs. Lionel Messi"
"C'Ronaldo Vs. Lionel Messi" wants you to forget about the argument, fights, grudges and quarrels y'all had during the recently concluded UEFA Champions League.
The game is over…. Grudges must be forgotten…. Sins be forgiven….
It's time to have fun, enjoy music, live life and love it.
We don't have to tell you what you should expect from this dope party mix. But, we just can't help letting out the secret! *expect to be taken to another world where it's just you and music only. No footballers… no fights… Just you singing and grooving to the tunes from your favourite Nigerian artistes*
Now, we bet you're ready to taste this little slice of heaven, eh? Click here to learn more one of the best DJ Mixes you would ever hear in the first half of 2018, and party away!
While grooving, don't forget the delight you experienced while listening to DJ Real's latest offering in the comments section below.
[wpdm_package id=23250 template="link-template-calltoaction3.php"]